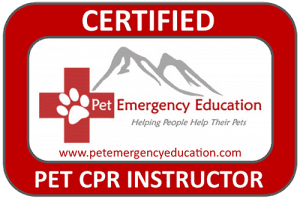 Dr. Steve is now certified to teach pet first aid and CPR. If you would like to attend one of his classes, check out the list below. To learn more about Pet Emergency Education, and specifically Pet CPR, visit petemergencyeducation.com
Hosting a CPR Class
To host a CPR class, or know of a group (agility group, rescue group, etc.) that would like to host a class, contact Dr. Steve at Vetcetera or click here.
Attend a CPR Training
If you are interested in attending a CPR training, view the schedule below and find a date and time that works for you. Each class is 3 hours long.
You can register online by clicking the link under "more information" for the class you would like to attend. Registration for a CPR class is $69.95 and includes:
CPR Certificate & 2 wallet cards
2-year subscription to the online Animal Emergency Resource Center
32-page full color class manual
Access to purchase first aid supplies through the Pet Emergency Education Online Store